150-year Anniversary
The most recently revealed Religion will be 150 years old tomorrow April 21st 2013. Like the followers of the revealed religions gone before it such as Islam (1,391 yrs old), Christianity (2,013 yrs old) Judaism (over 3,000 yrs old), and others, Baha'is commemorate on this day both the dawn of a New Age and the unwarranted, unjust suffering of the Author of the revelation.

Open Declaration
On this day in 1863 the Founder of the Bahá'í Faith, Bahá'u'lláh, declared Himself to be the Promised One of all the world's religions; the inaugurator of a new Revelation fulfilling and reafirming the promises of the great religions of the world and adapting and applying their most sacred principles to the present-day circumstances of an ever-changing world. His comprehensive teachings would cover a vast range of subjects and disciplines with direct bearing on the complex problems of today. The Faith He established – inaugurated in the midst of a veritable bloodbath in Persia, the land of its birth – would spread rapidly around the world in less than a century after its birth. Today there are over five million Bahá'ís in over 200 countries.
On this day in 1863 Bahá'u'lláh was an exile in Baghdad, Iraq, having been unjustly banished from Persia ("Iran") at the instigation of a fanatical Shia'h Muslim Clergy. At the instigation of these same Muslim Clergy, now collaborating with the Sunni Muslim Clergy in Constantinople, a second order of banishment had been issued ordering his transfer from Baghdad to Constantinople.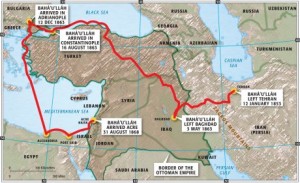 It was in the midst of these difficulties that Bahá'u'lláh announced to His followers that He was the expected Promised One fortold by the prophets of the past whose teachings were destined to usher in that long-promised period of peace, security and religious harmony on Earth. The specific location of this event was a garden in Iraq designated by Him as the Garden of Ridvan which means "Paradise" (pronounced "Rizwan") This is the day that Bahá'ís commemorate on April 21st.
Huffington Post has published a comprehensive article (click here) on the 150th anniversary of Bahá'u'lláh's declaration written by Bay Area resident Shastri Purushotma.
For more information see also:
Bahá'u'lláh in Baghdad
Informative Wikipedia Article about Bahá'u'lláh